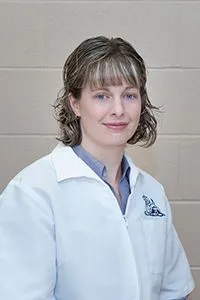 Dr. Tawnya R. Copland was raised on a mixed farm north of Alix, Alberta, where she was actively involved in sports, 4-H, and the family Simmental herd. She graduated from the Western College of Veterinary Medicine in 2004 and practiced in the Westaskiwin and Camrose area prior to moving to Innisfree, August 2016.
Dr. Copland enjoys the variety mixed animal practice offers and enjoys driving in the countryside on farm calls and conversing with producers. In 2011 started her interest in Veterinary Behaviour which continued to develop from there in that she now offers veterinary behaviour consults for dogs and cats. However, uses all her knowledge for all animals to help ensure the wellbeing of her patients.
Away from the clinic, Tawnya enjoys spending time with her husband Cory, son and daughter. Then there is the helping out with the day-to-day farm operations and working on building her Simmental herd. Tawnya is also active in the Innisfree - Minburn 4-H Beef Club as a leader. When there is time Tawnya enjoy's throwing the odd rock down the ice whenever she can make it to the curling rink.


Dr. Copland is a member of:

Dr. Copland holds the following certifications:
Canada and Alberta BSE Surveillance Program
Canadian Food Inspection Agency:
Cattle:
Testing for Brucellosis and Caudal Fold Tuberculosis.
Animal Semen Production Centre.
Exportation of Cattle to USA born after March 1, 1999 and to Mexico.

Bison:
Exportation of Bison to USA born after March 1, 1999

Equine:
Equine Infectious Anemia (EIA) testing
Export to United States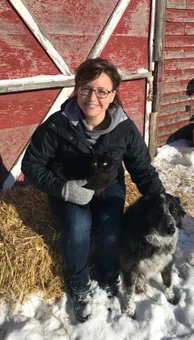 Christine Garnier is a 2005 graduate of Lakeland College's Animal Health Technology program. She grew up on a dairy farm in British Columbia and was actively involved in both dairy and horse 4-H clubs. After working at a Central Alberta vet clinic post graduation, she moved back to Vermilion, married her husband and made the Vermilion area her home in 2006.

Christine and her husband live on a small hobby farm with their two boys and mixed herd of animals. Outside of work she enjoys being outdoors, camping, riding her horses and enjoying summer evenings around the fire with her family.

Christine is excited to be a part of Prairie Rose Veterinary Services and can't wait to meet you and your four legged friends!
Christine is a member of:
Christine holds the following certifications:
Low Stress Handling Certification for Dogs and Cats - Silver Level
Fear Free Professional - Level Three